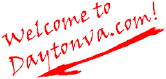 ---
NOT.SO.HOT RATINGS

Weather Underground Home
Local forecast

The Weather Channel Home
Local Forecast

Accuweather Home
Local Forecast

CNN Weather Home
Local Forecast

Intellicast Home
Local Forecast

USA Today Weather
Local Forecast

NOAA
NOAA text version (loads quickly)
NOAA Virginia links
Who should you believe?
Check out our Daytonva.com exclusive-- the not.so.hot accuracy ratings! That's right we keep track of our local forecasts.
Here are brief descriptions of some of our weather links:
Local Radar
This is the weather radar brought to you from The Weather Channel
The Weather Channel's local forecast, whose data are from Waynesboro.

Weather Underground for Dayton
This is the site that provides our rainbow time/temperature sticker. We think the data are actually from the Sheandoah Valley airport at Weyers Cave. This site and its home page have some interesting features-- weather log by the hour, an evening star chart (click astronomy) and more
Weather Underground Home Page

Do you have a weather link you think we should add to the Valley Weather Page?

To send the URL and a brief description, click here.